Best Time to Visit Marrakech: Insider Tips to Timing Your Trip Right
Wondering when is the best time to visit Marrakech? Here's what you need to know to time your trip to the Pink City just right!
Marrakech is a vibrant and enchanting city that offers a unique blend of ancient history, colorful markets, delicious cuisine, and warm hospitality.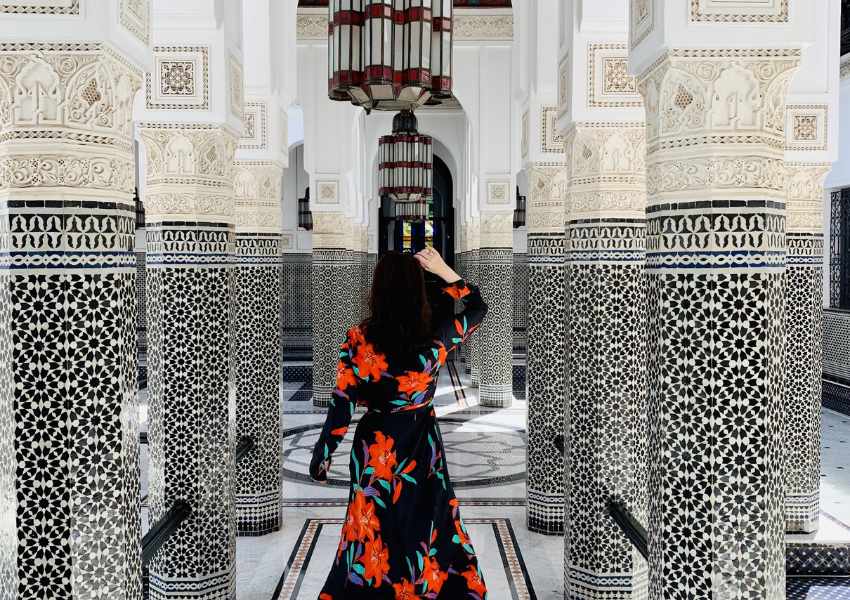 However, the best time to visit Marrakech can depend on a variety of factors, including weather, festivals, and crowds.
In this blog post, we'll take a closer look at the best time to visit Marrakech, based on these factors and more.
When is the best time to visit Marrakech?
Visiting the Pink City can be an enchanting experience, but choosing the best time to visit Marrakech for your interests and travel style is crucial for a perfect trip. Ideally, you should consider the seasons and the climate before planning your adventure.
Spring (April-May) is what I personally consider the best time to visit Marrakech, as the weather is pleasant and the city is in full bloom. Average temperatures range between 17°C and 28°C, so it's not too hot during the day and fairly cool at night. This is also festival season, which means you get to witness the vibrant Moroccan culture in all its glory.
Autumn (October-November) is another excellent choice for visiting Marrakech. The sweltering heat of the summer has subsided, and average temperatures are between 14°C and 24°C. Exploring the markets and historical sites is comfortable during this time, and the city's gardens are adorned with beautiful foliage.
You can still enjoy Marrakech in the summer (June-September), just be prepared to deal with the heat. Temperatures can soar above 37°C, especially in July and August. But, if you don't mind the heat, you could take advantage of the less crowded sights and lower accommodation prices compared to peak tourist seasons.
Winter (December-March) in Marrakech can be surprisingly chilly, with average temperatures ranging from 7°C to 20°C. Nights can be quite cold, so make sure to pack some warm clothes.
However, the cool weather does provide a respite from the usual hustle and bustle, allowing you to experience the city at a more leisurely pace. Winter is what I consider the best time to visit Marrakech after spring, especially because you get to avoid crowds and the vibe feels more local.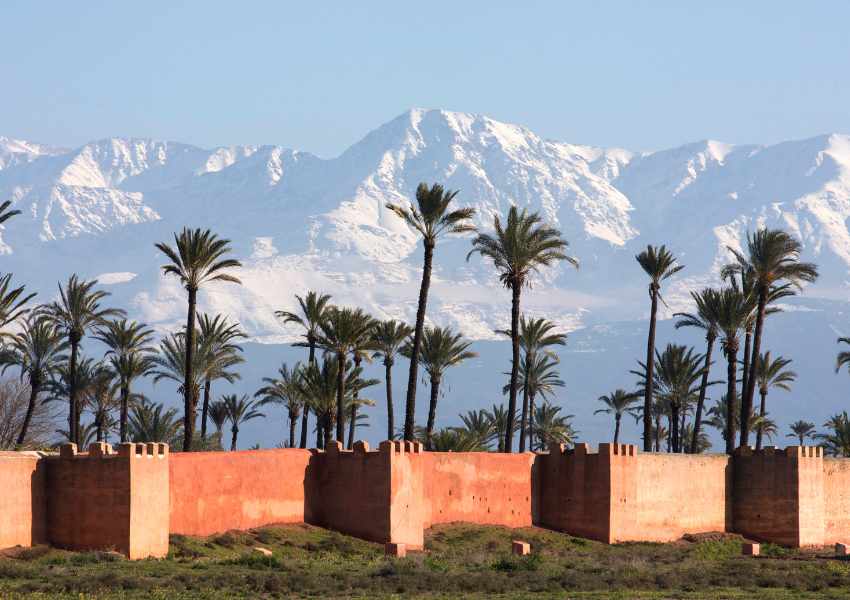 Weather and Climate in Marrakech
Spring
In spring, you can expect mild temperatures and beautiful blossoms all around Marrakech. The average temperature ranges from 12°C (54°F) to 25°C (77°F), making it comfortable to explore the city and its surroundings.
With about 8-9 hours of sunshine per day, you'll have plenty of time to enjoy outdoor activities. There might be occasional rainfall, so keep an umbrella handy.
Summer
Summer in Marrakech can be quite hot, with temperatures soaring up to 38°C (100°F) during the day. While mornings and evenings are cooler, around 20°C (68°F), it can still feel quite warm.
If you're planning to visit during this time, be prepared to stay hydrated and wear sun protection. It's also a good idea to take breaks in the shade or visit air-conditioned places during peak hours. Note that there's very little rain during this season.
Autumn
Autumn brings a pleasant change in weather, with temperatures cooling down to a range of 15°C (59°F) to 28°C (82°F). The city starts to get less crowded, providing a more relaxed atmosphere for visitors.
You can expect about 7-8 hours of sunshine per day, which is still ample for exploring the city. However, this season sees increased chances of rainfall, so pack a light raincoat or umbrella.
Winter
Winter in Marrakech is relatively mild, with average temperatures between 6°C (43°F) and 19°C (66°F). You'll experience about 7 hours of daily sunshine, making it a great time to explore the city without facing extreme heat.
With fewer tourists around, it's easier to enjoy the authentic vibe of Marrakech. Do remember to pack some warm clothes, as nights can get chilly. Also, anticipate some rain or drizzle during your stay.
FIND MORE GUIDES TO THE BEST TIME TO VISIT MARRAKECH
---
Marrakech in May
Marrakech in June
Marrakech in July
Marrakech in August
Best Time to Visit Marrakech for Festivals and Events
When planning your trip to Marrakech, you'll want to consider the timing of festivals and events. Throughout the year, the city comes alive with celebrations that showcase its rich cultural heritage.
The Marrakech International Film Festival takes place in November or December. Usually lasting for a week, this prestigious event attracts international filmmakers, actors, and enthusiasts. It's a unique opportunity to immerse yourself in the world of cinema while surrounded by the vibrant atmosphere of Marrakech.
In April, you can experience the Marrakech Laughter Festival, which brings comedians from around the world to perform. The laughter and joy spill into the streets, making it a fantastic time to explore the city and enjoy the lively energy.
Food lovers should visit during the Marrakech Street Food Festival held in October. The city turns into an open-air culinary adventure, with mouth-watering dishes prepared by renowned chefs and local vendors. It's an excellent opportunity to sample Moroccan cuisine as you stroll the streets.
Another notable event is the Marrakech Popular Arts Festival in July. Attracting artists and performers from across Morocco and around the globe, the festival showcases the music, dance, and traditions of the region. The lively performances make visiting during this time a truly memorable experience.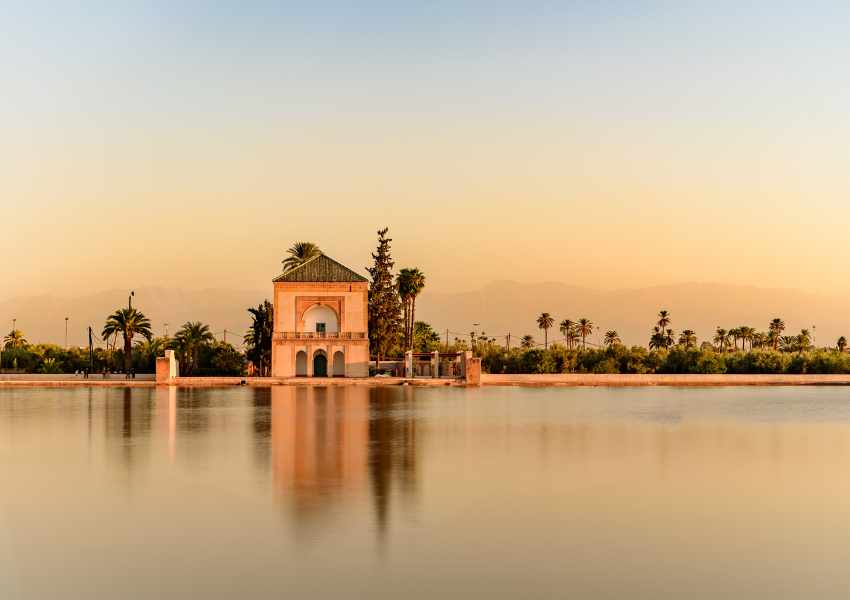 Best Time to Visit Marrakech for Prices
Visiting Marrakech can be an unforgettable experience, but you probably want to make sure you're getting the best bang for your buck.
The good news is that there are times of the year when you can enjoy more affordable prices.
Low season (June – August) is when you'll find the most significant price drops in accommodations and flights. This time of the year is typically hot, with temperatures soaring up to 100°F, which may deter some travelers. However, if you don't mind the heat and are looking for great deals, this is the ideal time for you.
Shoulder season (February – May, September – November) offers moderate temperatures and fewer crowds. It's not as cheap as the low season, but you can still find reasonable prices in comparison to the high season. If you're looking for pleasant weather and reasonable costs, this might be your sweet spot.
Bear in mind that during festive seasons like Eid al-Adha or the Marrakech International Film Festival, prices can spike, and accommodations may fill up quickly. So, if you plan to visit during these events, book well in advance to secure better deals.
When booking flights, it's usually a good idea to start monitoring prices a couple of months before your intended departure date. Keep an eye out for sales or discounts to snag the best deals on airfare.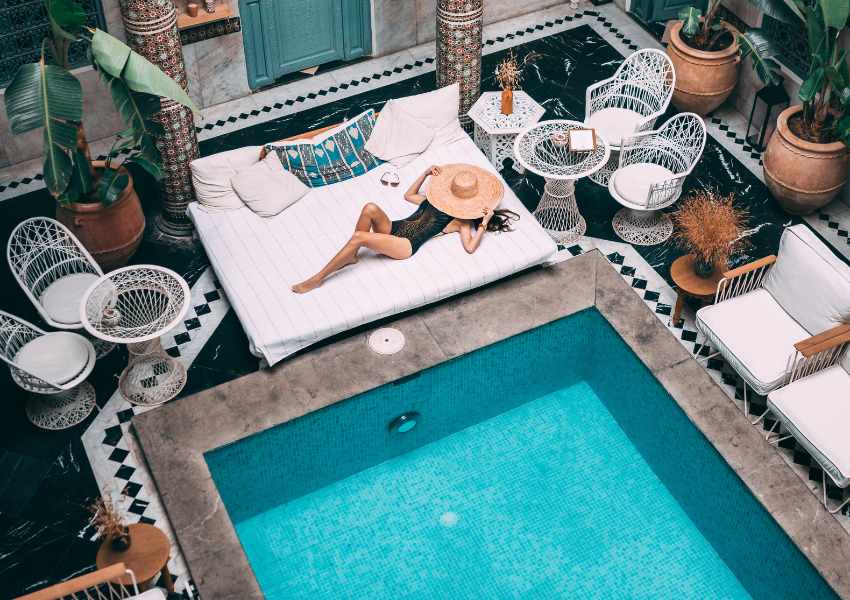 Best Time to Visit Marrakech for Fewer Crowds
If you're looking to experience Marrakech with fewer crowds, consider visiting during the low or shoulder seasons. While December to February is the low season due to slightly cooler temperatures and occasional rainfall, the shoulder seasons of March to May and September to November offer more pleasant weather and thinner crowds.
During these months, not only will you have a more relaxed atmosphere, but you'll also find more competitive prices on accommodations and activities. Plus, you can take advantage of the genuine Moroccan atmosphere without being constantly surrounded by other tourists.
Some key events and attractions that draw fewer crowds in Marrakech during these months are:
In March, the Marrakech Biennale brings the city's vibrant contemporary art scene to life.
April and May offer the opportunity to witness the local Almond Blossom Festival and Rose Festival.
To make the most of your trip, remember to pack layers as temperatures can vary, especially during the evenings. But rest assured, exploring Marrakech during these months will give you a truly authentic and enjoyable experience.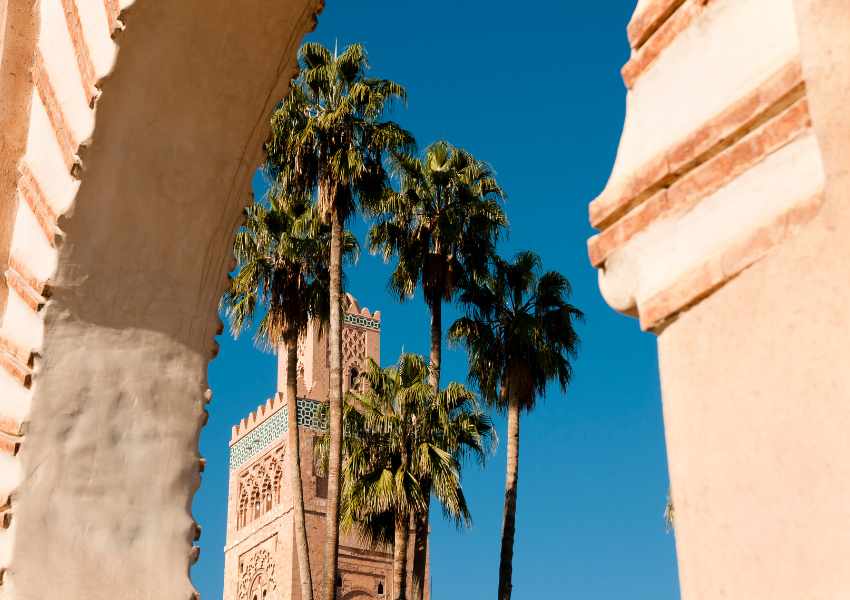 Best Time to Visit Marrakech for Best Weather
When planning your trip to Marrakech, you'll want to consider the weather to make sure you have an enjoyable experience.
The best time to visit Marrakech for the most pleasant weather is between March and May, or between October and November. These months offer a perfect balance of warm and comfortable temperatures without the sweltering heat or freezing cold.
During March through May, the city begins to bloom with beautiful gardens, and the mild temperatures during springtime allow for comfortable exploration. The average temperature during these months ranges from 18°C (64°F) to 25°C (77°F), offering a perfect climate to explore the bustling souks, historic palaces, and scenic gardens.
Similarly, visiting Marrakech in the autumn months of October and November offers mild to warm temperatures without the intense summer heat or winter chill. Average temperatures range from 21°C (70°F) to 26°C (79°F), making it a great time to wander through the city's winding streets and take in the vibrant colors of the changing foliage.
Keep in mind that while these are the best time to visit Marrakech weather-wise, they are also the most popular times for tourists.
You may experience larger crowds and higher prices for accommodations and tours. If you're looking to avoid crowds, consider a visit during the shoulder months of February or September, but be prepared for slightly cooler or warmer temperatures.
Don't forget to pack sunscreen, a hat, and sunglasses for sun protection regardless of the time you choose to visit, as well as a light jacket for cooler evenings. Optimal clothing includes breathable fabrics and layers, as temperatures can fluctuate throughout the day.
When is the Worst Time to Visit Marrakech?
The worst time to visit Marrakech largely depends on your personal preferences, but there are a few factors to consider.
Some people might find the summer months of June, July, and August unbearable due to the extreme heat. During this period, daytime temperatures can easily soar above 100°F (38°C), making it difficult to enjoy outdoor activities.
In addition to the heat, the city can become quite crowded during the summer months, as local students are on holiday and many tourists descend upon Morocco. The bustling Medina might feel more claustrophobic than charming, and you may have to contend with long lines at top attractions.
Another time to think twice about visiting Marrakech is during the month of Ramadan. This is a time of fasting for Muslims, and daily life in the city changes quite a bit.
Many shops, cafes, and restaurants alter their hours, while some close altogether. If you do choose to visit Marrakech during Ramadan, be prepared to adjust your plans accordingly, and be respectful of local customs.
So, if sweltering heat and large crowds aren't your cup of tea, it's best to avoid the height of summer in Marrakech. Similarly, if you're looking for more regular business hours and a more lively local scene, it's wise to steer clear of visiting during Ramadan.
Best Time to Visit Marrakech: Conclusion
Marrakech is a captivating destination that can be enjoyed year-round. However, the best time to visit Marrakech really depends on what you're looking for.
If you're seeking warm weather and vibrant festivals, then the best time to visit Marrakech for you is during the spring or fall. If you prefer cooler temperatures and fewer crowds, then winter may be the perfect time for you.
Regardless of what you consider the best time to visit Marrakech, the city is sure to leave a lasting impression on any traveler with its rich culture, history, and hospitality.