Things to Do in Marrakech at Night: A Guide to the Pink City After Dark
Looking for the best things to do in Marrakech at night? We've got some amazing recommendations!
Marrakech is a city that never sleeps, and the nights are just as vibrant as the days. With its colorful markets, lively music, and delicious food, Marrakech offers an unforgettable experience for anyone looking to explore its nightlife.
Whether you're a solo traveler, a couple, or a group of friends, there are plenty of things to do in Marrakech at night. In this blog post, we'll explore some of the things to do in Marrakech at night.
Things to Do in Marrakech at Night
Jemaa El-Fnaa
Jemaa El-Fnaa is the heart of Marrakech's Medina and a must-visit spot to experience the city's vibrant nightlife. As the sun sets, the square comes alive with an array of performers, food stalls, and endless entertainment options, making it by far one of the best things to do in Marrakech at night.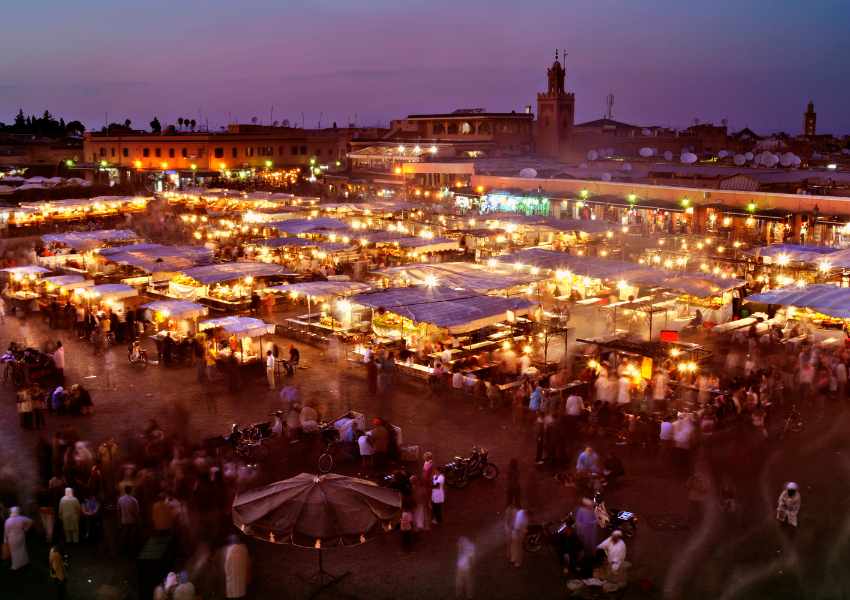 You'll feel the excitement build as acrobats, musicians, and dancers take center stage, captivating you throughout the night. Don't be surprised to find snake charmers and henna tattoo artists on every corner, eager to entertain and share their skills.
One of the key features of Jemaa El-Fnaa at night is the tantalizing aroma of Moroccan street food. Stop by those bustling food stalls and treat yourself to mouthwatering local dishes like couscous, tagine, or even adventurous options like brochettes or roasted lamb's head. Don't forget to leave room for a steaming cup of traditional mint tea.
If you're in the mood for shopping, the surrounding souks are ideal for picking up souvenirs, locally made crafts, and traditional clothing. Feel free to haggle with vendors to score the best deal and embrace the true Marrakech way of shopping.
Things to Do in Marrakech at Night: Fascinating Cultural Shows
Lotus Club Dinner Show
You'll be delighted by the Lotus Club Dinner Show in Marrakech. It's an impressive marriage of delectable gourmet cuisine and exciting live performances. At this luxurious venue, your evening begins with an exquisite menu curated by skilled chefs, setting the tone for a night of enchantment.
As you enjoy your meal, professional performers grace the stage with a variety of captivating acts, such as beautiful belly dancers and acrobatic displays that showcase the spirit of Moroccan culture.
Tip: To get the most out of your experience, book your visit to Lotus Club Dinner Show through this tour to ensure a spot. The ticket includes entrance to the show itself, hotel transfers, and a 3-course meal with wine.
Chez Ali Fantasia Show
Immerse yourself in a Moroccan cultural extravaganza at the Chez Ali Fantasia Show. Here, you'll experience an unforgettable night filled with electrifying performances that portray the rich history and traditions of the country. Get ready for an enticing culinary journey combined with mesmerizing music and dramatic shows.
Witness skilled horse riders demonstrating traditional equestrian stunts, and marvel at the musicians and dancers who keep you enthralled throughout the night. The vibrant atmosphere, and the lively performances at Chez Ali are sure to create memories you won't soon forget.
Tip: Book this dinner through this link! It will make your evening a whole lot better as it includes transfers, a 5-course meal and the show itself so you can do this activity without having to worry about anything!
Night Tours and Excursions
Afgay Dinner Experience
Leave Marrakech altogether and head out on a dinner of a lifetime in the desert!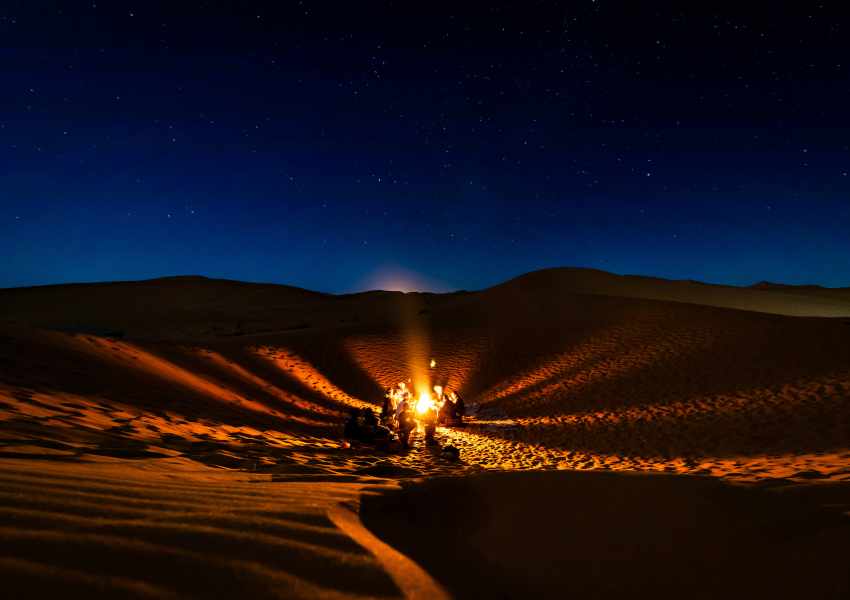 Head over to the Afgay Desert at sundown to enjoy dinner under the stars at a desert camp in the middle of nowhere. You'll get to enjoy one of the best sunsets of your life after riding a camel through the desert and taste local dishes as you listen to Berber music around the fire.
Explore the Medina by Night
There's something magical and completely different about exploring the medina after the sun goes down. It's definitely one of the best things to do in Marrakech at night because the vibe is completely different!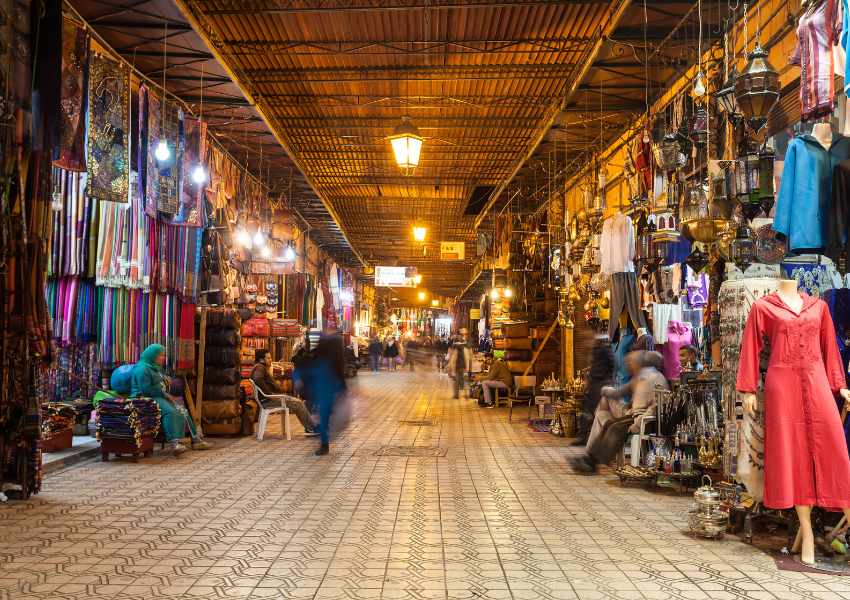 This medina night tour is an excellent choice. It lasts two hours and will have you immersing yourself in the medina's vibrant atmosphere, learning about history, shopping for trinkets, and tasting local delicacies and tea.
Unique Dining Experiences
Riad Kniza
Riad Kniza is an excellent place to experience the traditional Moroccan cuisine in a cozy atmosphere. You'll find it tucked away in the medina, transporting you away from the hustle and bustle.
The beautiful interior boasts authentic Moroccan decor, with lanterns and intricate wood carvings adorning the walls.
Savor delicious tagines, couscous dishes, and pastilla while enjoying live musicians playing traditional music. Make sure to reserve your spot in advance, as this hidden gem fills up quickly.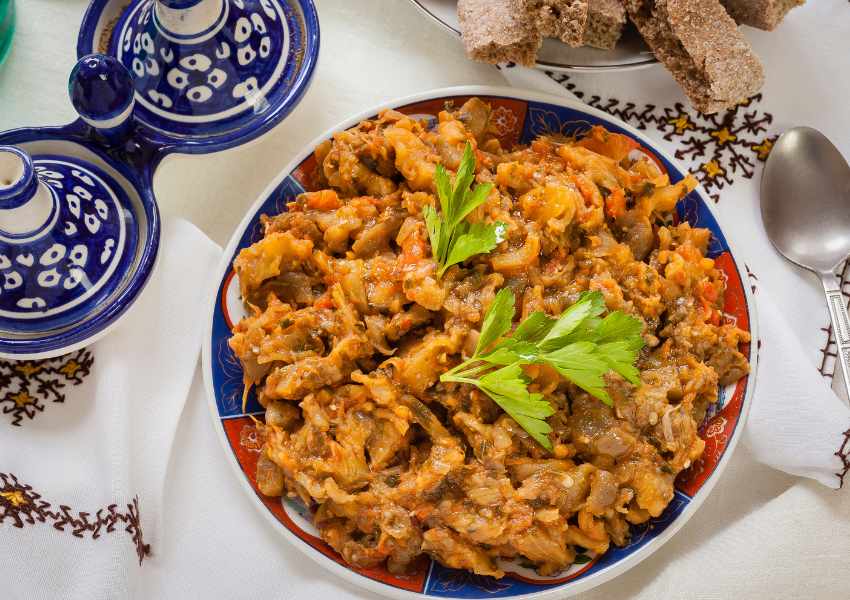 Le Comptoir Darna
Another enchanting option for a night out in Marrakech is Le Comptoir Darna. Known for its vibrant atmosphere, Le Comptoir Darna combines incredible Marrakech food with live performances. Treat your taste buds with a selection of Moroccan and international dishes, such as:
Lamb tagine with fruity notes
Grilled seafood platter
Spiced Moroccan-style chicken
As you dine, you'll be entertained by various acts, including belly dancers and musicians. The night doesn't end with dinner, as Le Comptoir Darna transforms into a lively spot to relax, dance, and socialize.
Late Night Shopping in Marrakech
Carré Eden Shopping Center
At Carré Eden Shopping Center, you can spend your night hours browsing through various stores. With its mix of international and local brands, you'll find everything from clothing to electronics.
If you get peckish in between shops, there are a variety of cafes and restaurants to choose from. Don't miss out on the opportunity to try some delicious Moroccan treats. Remember, shops are open until 10 PM or even later, so you have plenty of time to explore!
Marrakech Plaza
Marrakech Plaza is another great spot for late-night shopping. This lively square is home to numerous shops, offering everything from souvenirs to high-end fashion.
Take a break and sit at one of the outdoor cafes, perfect for people-watching and soaking in the atmosphere. The great thing about Marrakech Plaza is that it's also a hub for entertainment, with live performances and music events.
Chic Rooftop Lounges in Marrakech
Le Foundouk
When exploring Marrakech at night, you should definitely visit Le Foundouk, a chic rooftop lounge that offers fantastic views of the city. As you ascend to the terrace, you'll be greeted with a warm, casual atmosphere surrounded by stunning Moroccan decor.
Here, you can enjoy a selection of delicious cocktails or share a bottle of locally-made wine with your friends. To complement your drinks, you can treat yourself to a menu of tasty Moroccan and international dishes. The laid-back music and soft lighting make Le Foundouk a perfect spot for a relaxed night out.
Sky Lounge at Pearl Marrakech
Another fabulous rooftop hotspot you can't miss is the Sky Lounge at Pearl Marrakech. Boasting panoramic views of the city, this trendy lounge offers a more modern and upscale experience for visitors. With an extensive cocktail menu, a delectable variety of tapas, and a sushi bar, it's a must-visit for foodies and cocktail enthusiasts alike.
The lounge features comfortable seating areas and stylish design that invite you to unwind in a casual atmosphere. As the evening progresses, the Sky Lounge transitions into a lively dance floor with a DJ playing the latest tunes. It's a great place to socialize, party, and enjoy Marrakech's vibrant nightlife.
Luxurious Night Spas in Marrakech
Hammam de La Rose
Welcome to Hammam de La Rose, a sanctuary for relaxation and pampering in Marrakech. Here, you can treat yourself to traditional Moroccan treatments in a beautiful and tranquil setting. Start your evening by indulging in one of their signature services:
Traditional Hammam: A steam bath experience that cleanses and softens your skin.
Body Scrubs: Exfoliate and rejuvenate your body using natural ingredients such as eucalyptus and black soap.
Massage Therapy: Loosen up your muscles and find inner peace with a range of massage techniques.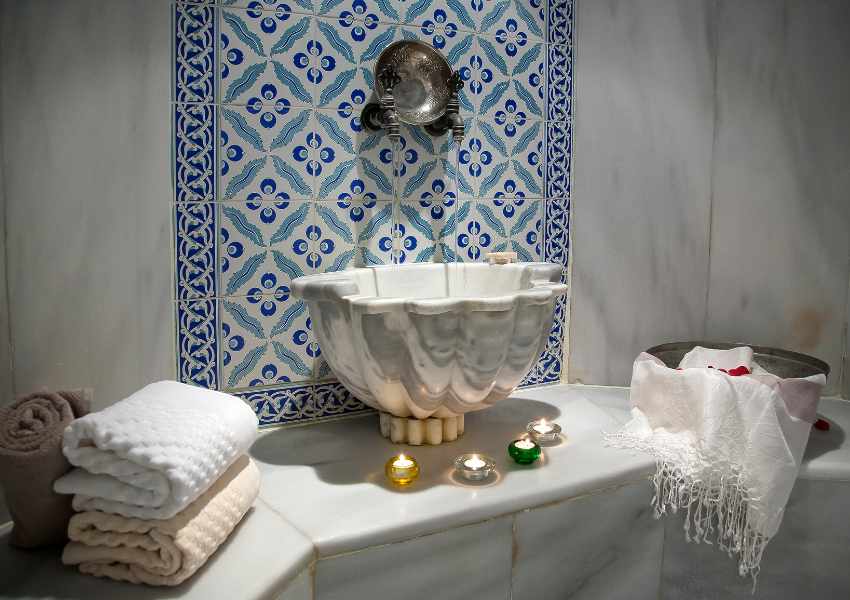 Les Bains de Marrakech
A trip to Marrakech wouldn't be complete without a visit to Les Bains de Marrakech. This luxurious spa is an ideal place to unwind after a day of exploring the bustling city. It offers an authentic Moroccan experience and a vast selection of treatments to help you relax and rejuvenate, such as:
Private Hammam: A personalized, private hammam experience using local ingredients.
Couples' Treatments: Enjoy some quality time with your partner while indulging in relaxing massages or side-by-side hammams.
Facials and Skin Treatments: Nourish and pamper your complexion with custom-tailored facial treatments using local, natural products.
To fully appreciate your time at Les Bains de Marrakech, allow yourself to explore the peaceful gardens and various steam rooms, taking in the soothing aromas and enchanting ambiance. The dedicated and professional staff will make sure your experience is nothing short of divine.
Things to Do in Marrakech at Night: Conclusion
Marrakech is a city that truly comes alive at night, with endless possibilities for entertainment and adventure.
From dining on delicious Moroccan cuisine to exploring the city's vibrant markets and enjoying live music, there's a plethora of incredible things to do in Marrakech at night.
Whether you're looking for a romantic evening out or a lively night on the town, Marrakech is sure to deliver an unforgettable experience. So, the next time you find yourself in this beautiful city, be sure to check out some of these amazing things to do in Marrakech at night.